Signature April 3rd
$190.00
This fragrance tells the story of a woman born on April 3. She was born in Sevilla, a city famous for its orange blossom
and the joy of its people.
She was a great lover of perfumes, but without a doubt, her favorite was always "First by Van Cleef and Arpels"
She was a woman of very strong character, very firm, even tough.
As she was born, she also passed away on April 3.
This is a tribute to my mother – Daniel Josier.
Top notes: Bergamot, Currant, Truffle, Ylang Ylang.
Heart notes: Orchid, Sagebrush, Cedar,
Base notes: Patchouli, Sandalwood, Vanilla, Chocolate, Vetiver.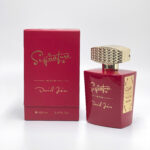 Signature April 3rd
$

190.00