Thauy Nakht Fragrance
$158.00
THAUY's fragrance NAKHT, which in Ancient Egypt means "the strong one" is a warm spicy tobacco Unisex fragrance.
NAKHT is the new addition of "The Power Of Resilience Collection", with this collection, THAUY wants to convey to the whole world that an inner spirit of prevailing strength and power will birth so we can overcome all adversities.
The nose behind this fragrance is the Master Perfumer Daniel Josier.
HEAD NOTES: Opoponax, Ceyleon Cinnamon, Ginger.
HEART NOTES: Fig Tree Wood, Pepper, Heliotrope.
BASE NOTES: Vanilla & Cacao, Light Tobacco, Brandy.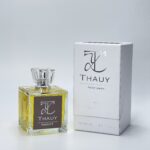 Thauy Nakht Fragrance
$

158.00