Thauy Althea Fragrance
$158.00
THAUY's fragrance ALTHEA, which in Greek Mythology means "healer" conveys to the whole world that an inner spirit of prevailing strength and power so we can overcome all adversities.
"The Power of Resilience"
ALTHEA comienza con notas de Coco & Gálbano, que presentan un cuerpo dominado por Tomillo, Azafrán y Ante cuero, para evolucionar en unas notas bajas de madera marcadas por Sándalo & Jaras.
La nariz detrás de esta fragancia es el maestro perfumista Daniel Josier.
NOTAS PRINCIPALES: Coco, Gálbano.
HEART NOTES: Thyme, Saffron, Ante Leather.
NOTAS DE FONDO: Sándalo, Jaras.
1 valoración en
Thauy Althea Fragrance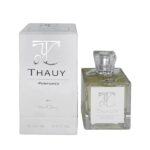 Thauy Althea Fragrance
$

158.00
Hay existencias